Manufacture of precision parts made of rubber
At Intercarat, the manufacturing technologies involved in the TM procedure (transfer moulding procedure), CM procedure (compression moulding procedure) and IM procedure (injection moulding procedure) are used to manufacture elastomer moulded parts.
Achievement of time and cost advantages
Intercarat uses the compression moulding procedure (CM procedure) in particular, as this technology can process various types of rubber with fewer faults than in other procedures. As, in addition, the moulds are more cost-efficient, we can also generate time and cost advantages for you. For technical reasons, we additionally use the injection moulding process. This is also performed under vacuum conditions in order to manufacture products that are free of defects.
Optimal properties due to vulcanisation and post-tempering
Post-tempering enables us to achieve significant improvements in the mechanical properties of the moulded parts and to comply with the approval requirements, in particular those of the pharmaceutical industry. Our annealing furnaces are permanently monitored to ensure the quality of the moulded parts and to provide you with complete documentation where necessary (monitoring of temperature, retention time, temperature profile and other parameters).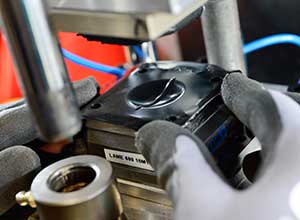 If increased resistance to pressure or flexural fatigue strength is required, we use fabric reinforcement made of aramides or polyaramides such as PPTA and PMPI (Kevlar®, Twaron®, Nomex®, Teijinconex®), polyester or polyamide. These substances are further characterised by their high elongation at break and good fatigue strength. Intercarat has the expertise required to use these supporting meshes with numerous elastomers/compounds. Particularly with higher operating pressures or for very thin or small moulded parts, this technology provides the advantages mentioned and increases the service life of the products.
Our services in the area of surface technology range from surface preparation and sand blasting through to the production of plasma-treated surfaces. Bonding agents are applied in our coating room. We also complement our in-house production options with additional finishing steps involving qualified partners. Our customers particularly appreciate the outstanding adhesion between elastomer and inserts, such as threaded pieces, for our composite parts, as well as the optimal deburring of all moulded and composite parts using die-cutting, cryogenic deburring and water jet cutting.