Intercarat has been supplying European companies with customised rubber and multi-component parts since 1995. Both large, global pharmaceutical companies as well as exclusive Swiss watch manufacturers value the personal support and consultation provided by our company.
Plant and device construction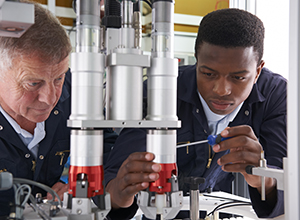 Our seals, cable bushings and lip seals, along with other products, have been successfully used for many years in a wide range of plant and device types. At the same time, our customers value our flexibility in producing small-scale series and individual custom-made products within a short time frame. Delivery scheduling and logistics services, as well as compliance with packaging regulations, also assist projects in this area.
Biotechnology and pharmaceutical industries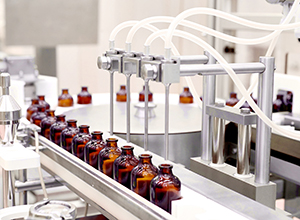 Intercarat has been working for many years with companies from the pharmaceutical and biotechnology industries. In this sector, we place particular emphasis on very good cleanability due to the appropriate surface quality of our parts, as well as high resistance of the materials in cleaning and sterilisation processes (high temperature over several hours, including when using cleaning alkalis or acids). Of course, the materials that we process for this industrial sector have all standard approvals.
Chemical industry and semiconductors
Reliability is the essential factor for us when it comes to applications with corrosive and/or abrasive media, and for cleanroom applications (high purity). We always design our diaphragms and other parts with this in mind. For chemical process systems, for example, we use lamination. In addition, we pay particular attention to additives and their potential with regard to important process parameters. For the microelectronics, semiconductor or solar energy industries, we also maintain a cleanroom based on class 9 for the manufacture of PTFE diaphragms and PTFE discs.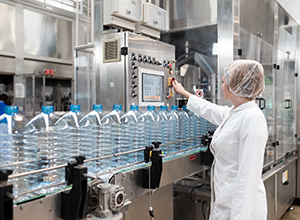 An increasing number of standards and regulatory codes have come into force in recent years for the manufacture of foodstuffs and beverages. We have kept pace with this development and have, in some instances, gone beyond its scope, to provide you with the best possible materials, compounds and manufacturing technologies. As well as finding alternatives, we are also very good at identifying gaskets and other elastomer and composite parts that meet your requirements. This ranges from the colouring of polymers to embossing and other surface technologies.
Media handling and water treatment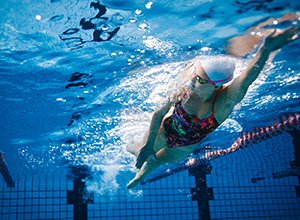 The handling of liquids, gases and steam and, in particular, the isolation of these fluids, is one of our core skills. Whether metering diaphragms for pumps or laminated diaphragms and rolling membranes for valves: Numerous companies rely on our experience in areas such as the flexural fatigue strength of rubber and plastic. This is one of the reasons that Intercarat has developed into the "competence centre for elastomers and PTFE" in the GEMÜ group. In addition to valves and pumps, we also supply the manufacturers of actuator technology, for example with actuator membranes.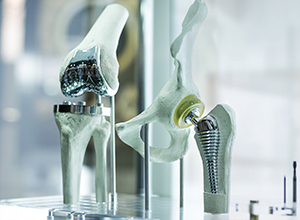 Intercarat is proficient in the processing of medical-grade silicone and is therefore an important consulting partner for the manufacturers of implants and other medical devices. Our company specialises in production aids, operating media and transportation protection. We can optionally colour your compounds for you, for example, to make it easier for your employees to assign products. It goes without saying that our VMQ material complies with all required approvals.
Watches and time measurement equipment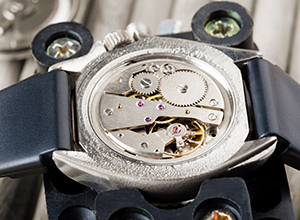 For a number of years, we have supplied various watch manufacturers and their OEMs with elastomer wristbands. For this we use the material FKM, better known under its brand name Viton®. This is very comfortable to wear and provides high elasticity and durability. This material is more or less impervious to humidity, moisture, heat and cold. We are happy to produce different colours, including customised ones. We can also apply logos if required.